The desert is probably the last place on Earth you'd expect to see a fish. But Dr Adam Kerezsy of the eWater Cooperative Research Centre knows better; he has recorded more than 40,000 desert fish and says the information gleaned may bring good news for the wildlife of the Murray Darling Basin.
The Mulligan River is normally a sandy gully that marks the north-eastern edge of the Simpson Desert. But a couple of times a decade, the Mulligan briefly becomes a 'real' river, replete with water and, remarkably, fish.
Dr Kerezsy has found that as this watery gateway opens, up to 11 fish species are likely to take their chances and migrate upstream into the driest part of Australia and a very uncertain future.
"These rivers are highly unpredictable," he says. "You'll get a big flow one year and then you might not have another for five years. What's amazing is these fish species are so well adapted to our unpredictable continent that it doesn't really matter if you have 10 dry years in a row – they'll survive it."
Dr Kerezsy believes the key to these battlers' survival is being ready to take advantage of opportunities when they appear.
"Although a few species breed regularly during the year, I found the vast majority breed all the time. This means they've always got juveniles around ready to capitalise on unpredictable rainfall."
Dr Kerezsy says this finding alters how we used to think Australian animals adapt to highly variable environments and that it's good news for the "broken" Murray Darling Basin.
"This finding is encouraging because it means if we can stop making things worse in the Murray Darling Basin, the animals there will probably be tough enough to recover."
Dr Kerezsy says he was driven to look at desert rivers by the idea that "everyone's researching the Murray Darling Basin, but I thought, 'Hold on, if we keep looking at the problem maybe we won't see the solution'."
"Because these desert rivers haven't been touched by humans, we can use them as a 'natural lab' to find out how Australian rivers are supposed to work and relate that information back."
Dr Kerezsy's new book Desert Fishing Lessons: Adventures in Australian rivers (UWAP) is out on 1st October.
Contact information
Dr Adam Kerezsy
Mobile: 0429 981 062
Email: a.kerezsy@griffith.edu.au
Professor Angela Arthington
Phone: (07) 3735 7403
Email: a.arthington@griffith.edu.au
eWater Cooperative Research Centre www.ewater.com.au
[Right click on photos to save them to your computer.]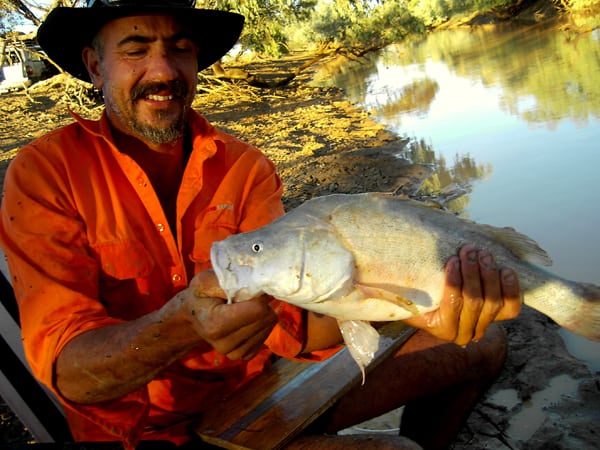 Dr Adam Kerezsy holds a healthy Yellowbelly from the Diamantina River in far western Queensland. (Photo: Michael Brigden)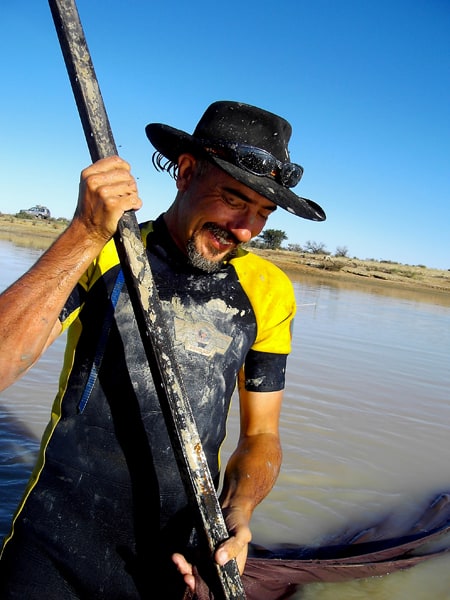 Setting nets at a rarely flooded waterhole in the eastern dunefields of the Simpson Desert. (Photo: Michael Brigden).